Meniu restaurant principal.
În restaurantul Hanului Hagi Nikoli veți intra în atmosfera unică a acestui loc de neegalat, căreia i se adaugă o servire fără cusur, bucătărie tradițională bulgărească și europeană, meniu gourmet, un bogat asortiment de vinuri de calitate, bulgărești și de import, selectate atent de o echipă specială de enologi. Restaurantul are câteva săli dispuse pe două etaje.
Meniu gourmet.
Restaurantul Hanului Hagi Nikoli, unic în Veliko Târnovo, oferă oaspeților săi o bucătărie gourmet atent selecționată. Saloanele gourmet din restaurantul Hanului Hagi Nikoli pun la dispoziție 20 de locuri în total.
On the second floor of the restaurant, there are two more lounges with a capacity for 20 people. Natural materials, Italian ceramic flooring, solid wood windows, doors and furniture have been used for interior decoration.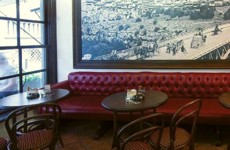 The coffee-shop in the Hadji Nikoli Inn is facing the old cobbled street and is located in three of the old shops that the Inn had with an access from the street and from the restaurant.
 
Grădina de vară se găsește în curtea interioară a Hanului Hagi Nikoli și este un loc preferat pentru a lua masa, putând fi și scenă pentru concerte, serate literare, concerte de cameră, petreceri de firmă, cocktailuri și ceremonii de nuntă. Grădina de vară a Hanului Hagi Nikoli dispune de un total de 60 de locuri.
OFERTE SPECIALE
Vă poftim la Hanul Hagi Nikoli dacă doriți să organizăm pentru dumneavoastră nunți, zile de naștere, banchete, petreceri de firmă, baluri de absolvire și botezuri, precum și sărbătorirea tuturor momentelor speciale pentru dumneavoastră într-un loc deosebit.